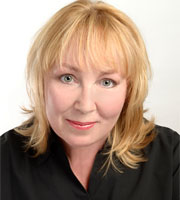 Ali O'Neal
Owner, O'Neal Medical Reimbursement
As a professional with more than 20 years of medical billing and collections experience, Ali O'Neal has developed relationships with her core practices that claim her as their "other staff member".
Ali is an asset to her clients when dealing with insurance matters and patient financial issues. With an extensive background in working with seniors, cancer and AIDs patients; she treats patients with respect, providing quick and thorough answers to their billing questions. By offering flexibility in her schedule, she can provide services that suit her client's time frames and also contact staff members at the most convenient times.
Ali is fully aware of insurance trends and controversies that are headlined in the medical billing arena and she keeps up with the latest technologies. She is thoroughly up to date on all CPT and ICD 9/ICD 10 protocols and enjoys providing services to numerous specialties.
"Medical Necessity isn't hard to prove and once understood, recovering payment is a simple process. I fight to the end to see that my clients receive the monies they deserve. My client's success is my success and I welcome all the challenges this field presents! Constant change is the only thing consistent in the health care field and it is the reason why I love what I do."
Testimonials
"After several misadventures with billing companies, we were lucky to find O'Neal Medical Reimbursement. For the past 15 years, Ali O'Neal has reliably and expertly managed our accounts receivable. She has been a resolute partner as we have dealt with Medicare and insurance issues, electronic billing, electronic remittances, and yearly ICD-9 and CPT coding changes. We would not trust any one else to do our billing."
Sandra Levine, M.D., Associates in Obstetrics and Gynecology, Inc., San Francisco, CA
"Ali is professional, courteous, friendly, knowledgeable and efficient. Since Ali has been doing my billing, I don't give it a second thought. I am confident in her professional and interpersonal skills, and know that she handles billing and her contact with clients with expertise and integrity. I recommend her without reservation."
Steven Friedlander, Ph.D., San Francisco, CA
"Ali is one of the most conscientious, thorough and honest people I have ever known. She is quite intelligent and able to handle all of the medical billing details with ease. Ali is very proactive in the billing process and therefore there are very few complications. And I always get glowing reports from my patients about how much they like Ali and how helpful and nice she is to them. She is a great asset to any medical practice!"
Scott Olson, M.D., Corte Madera, CA
"The service that Ali provides is exemplary; she is always available to answer questions and solve problems in a professional and friendly manner. We have depended upon OMR for over 11 years and Ali has consistently exceeded our expectations."
Lorraine Barnard, Associates in Obstetrics and Gynecology, Inc., San Francisco, CA